Festival of Christmas Trees and Wreaths
Thursday 13 December 10am - 6pm Friday and Saturday 14 and 15 December 10am - 3pm Sunday 16 December 11am - 1pm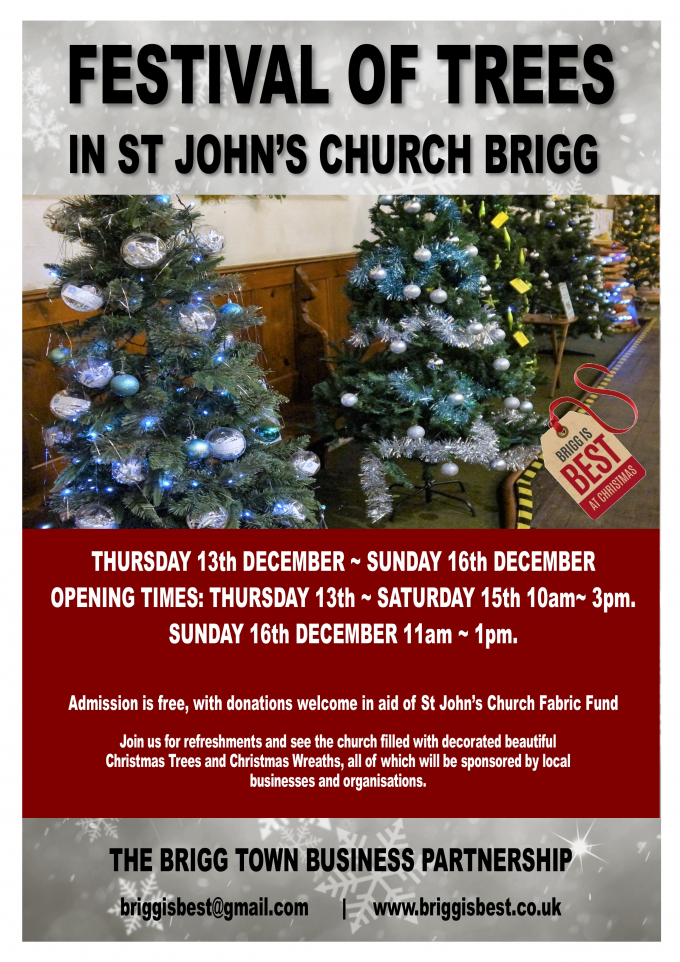 Date & Location
Date: 13th December 2018
Venue: St John's Church, Wrawby Street, Brigg
Event Details
The event will see the Church filled with decorated Christmas Trees and Christmas Wreaths, all of which will be sponsored by local businesses and organisations. Admission will be free with donations welcomed in aid of St John's Church. Refreshments will be available throughout the four days in the Church Hall where memory cards and raffle tickets will also be available to raise money for the two charities supported by The Brigg Tree of Light. Background music will be played during the Festival
On Saturday December 15th, an augmented Brigg Churches Together Choir will perform items from Graham Kendrick's 'The Gift'. This will be held at Café Courtyard in Brigg commencing at 7.30pm. Admission is free, however, tickets need to be obtained in advance from the Churches Together Shop at 75 Wrwaby Street, Brigg with donations being welcomed on the night towards the cost of staging the event.
Prior to the event closing on Sunday December 16th, a Town Carol Service will be held in the Church at 2.00pm with music provided by Barnetby Band. A collection will take place during the service and will be shared between St John's Church and Barnetby Band. Following the service, refreshments will be served in the Church Hall – donations welcome.
Any businesses or organisations that are interested in sponsoring either a Christmas Tree and/or wreath are asked to contact Jane Kitching of The Brigg Town Partnership as soon as possible at [email protected] as there has already been significant interest in this inaugural Festival. For a small charge a tree decorating service will also be in operation.
Visit the Brigg Town Business Partnership website at www.briggisbest.co.uk to keep up to date with Festival of Christmas Trees and Christmas Wreaths information and details of other Brigg events.